Laboratory Exhaust Fans
The most extensive line of laboratory exhaust systems in the industry.
The main objectives of a laboratory exhaust system are removing hazardous or noxious fumes, diluting the fumes, and expelling them at high velocity from the building to minimize the possibility of roof area contamination or re-entrainment into the building make-up air system. Vektor® systems safely discharge lab exhaust in life-safety applications.
---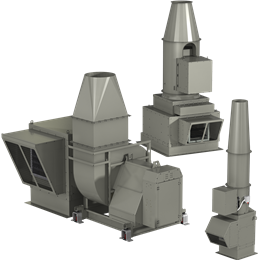 HIGH PLUME LABORATORY EXHAUST FANS
Vektor® fans with high-velocity discharge nozzles have multiple nozzle sizes available for each fan. These provide options in plume height, sound levels and energy consumption requirements, for any lab project application. These fans are cost-effective solutions compared to the field built-up fan and stack assemblies.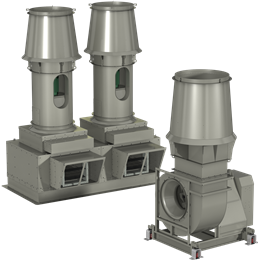 HIGH PLUME DILUTION LABORATORY EXHAUST FANS
The high plume nozzle and dilution windband entrain outside ambient air to assist in the increased dilution of laboratory exhaust while maintaining effective plume height. Higher nozzle velocity creates a higher dilution, diluting and dispersing potentially hazardous exhaust or fumes quickly and safely.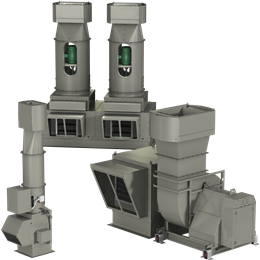 VARIABLE GEOMETRY NOZZLE LABORATORY EXHAUST FANS
The Variable Geometry Nozzle (VGN) automatically adjusts to maintain the specified discharge velocity as airflow varies. This safely prevents re-entrainment in the make-up air unit. The VGN provides energy savings in reduced lab flow situations without introducing bypass air to maintain ANSI required outlet velocities.