Cylindrical Fans
Cylindrical fans address a wide range of supply and exhaust applications.
Cylindrical fan models meet a wide range of supply or exhaust applications in commercial and industrial facilities. There are many models available for clean air, sound sensitive and heavy-duty industrial applications. Units mount in the ceiling or on the floor. Performances range from several hundred cfm to over 100,000 cfm and pressure up to 10 in. wg. Typical building applications include office space, theaters, libraries, lavatories, locker rooms, warehouses, tunnels, parking garages, and kitchen grease.
---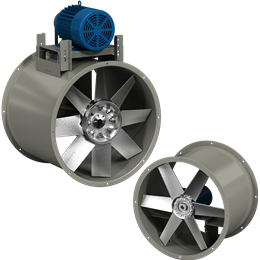 TUBE AXIAL FANS
Tube axial fans offer a lower cost option and are applied in ducted and unducted commercial or industrial applications. Applications include general ventilation and warehouse or process exhaust involving high temperature or spark resistance are typical applications. Each model includes integral flanges for airtight duct connections and universal mounting brackets to install in any orientation.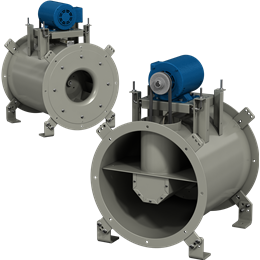 TUBULAR CENTRIFUGAL FANS
Tubular centrifugal fans are for commercial and industrial in-line applications that demand quiet, efficient and reliable air movement. With a universal mounting system that mounts in any position from horizontal to vertical, it installs in the smallest space and provides flexibility in the final mounting position for unplanned piping, ducting or cable trays. Typical applications include fume exhaust and clean air.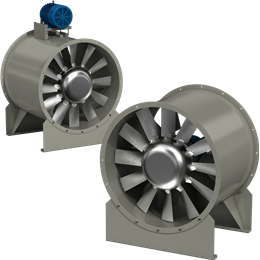 VANE AXIAL FANS
Vane axial fans are the most efficient axial design. Precision machining creates a tight tip clearance between blade tips and the fan housing. Integral straightening vanes redirect swirling airflow after the impeller into a linear flow at the discharge, further adding increased efficiency. Best suited for applications where there are high volumes of air at medium to high pressures, applications include mining, tunnel ventilation and large space ventilation such as atriums, halls, and stadiums.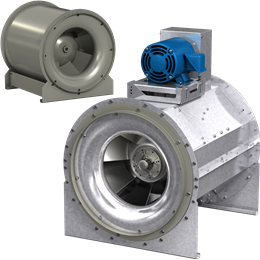 MIXED FLOW FANS
Mixed flow fans are more efficient than comparably sized tubular centrifugal and vane axial fans, operating at a lower sound level, reduced motor horsepower, and lower operating costs. Mixed flow fans are used for supply, exhaust, or return air installations.